To submit a request to 2847 for assistance you need to be authenticated using your APS credentials. Please follow the steps below.
Log in MyAccess@APS – https://myaccess.apsva.us/
Click on the '2847' button.

In the upper right-hand corner next to your name click on 'Submit a Request'.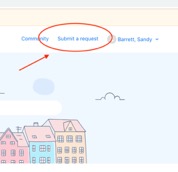 If you want to see your submitted requests, click on your name in the upper right-hand corner and from the drop-down menu select 'My activities'. You can see all of the requests you have submitted. To update your request or ask for an update just click on the request.